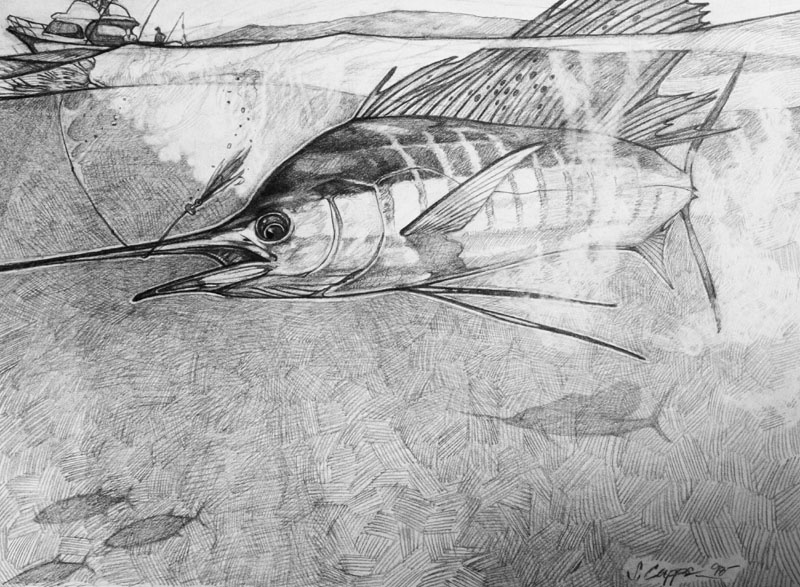 SAILFISH

SAILFISH IN OUR AREA ARE CONSIDERED A SURPRISE CATCH. HOWEVER, THERE ARE ENOUGH SCATTERED AROUND IN THE SPRING, SUMMER, AND FALL TO SPICE THINGS UP ON OCCASION.  THEY ARE CAUGHT WHILE TROLLING LIVE BAITS FOR KINGFISH IN THE SPRING AND FALL.  THEY ARE ALSO CAUGHT TROLLING LURES IN THE BLUE WATER FOR OTHER PALEGICS AND THEY WILL PICK UP A FLAT-LINED BAIT OFF THE TRANSOM WHILE BOTTOMFISHING.  WHILE SAILFISH  ARE CAUGHT IN OUR AREA, THEY ARE NOT A SPECIES THAT ARE TARGETED EXCLUSIVELY. 

THE COOLEST SAILFISH EXPERIENCE WE HAD ABOARD TIGHTLINES II WAS A DOUBLE HEADER IN THE SUMMER OF 2006 TROLLING LIVE SPANISH SARDINES!  THE CORRADO BROTHERS FROM NEW JERSEY WERE OUT WITH US DOING SOME BOTTOMFISHING AND ON THE WAY BACK IN WE SPOTTED A FEW LARGE SURFACE BREAKS ABOUT 45 MILES OUT.  WE HAD BOTH SAILFISH EAT THE BAITS BEFORE WE COULD GET THEM IN THE OUTRIGGERS.   BOTH FISH WERE TAGGED AND RELEASED.  WE HAVE A CATCH AND RELEASE POLICY FOR ALL BILLFISH CAUGHT ABOARD TIGHTLINES CHARTERS.

SAILFISH CAUGHT IN OUR AREA RANGE IN SIZE BETWEEN 20 TO 60 POUNDS, FOUR TO SEVEN FEET IN LENGTH.     

ALL ARTWORK CREATED AND COPYRIGHTED BY CAPTAIN STACY